🔌🇨🇳🇮🇳CIN#10 COVID-19 can be contained 🙌🏼
Plus a new paper on India's ICT dependence and reactions to China's epidemic containment efforts
ChinaIndia Networked is a (semi) regular newsletter by me, Dev Lewis, highlighting the networked relationship between the two regions at the intersection of technology, society, and politics. I'm a Fellow at Digital Asia Hub and Yenching Scholar at Peking University, where i'm conducting research on the Social Credit System. Follow me on Twitter @devlewis18 or write to me at devlewis@protonmail.com.
---
Welcome to issue 10 of ChinaIndia Networked.
If you've been receiving past issues you would have read about the COVID-19 "new normal" sucking F&B businesses dry and forcing work, study, and play online in issue 8, and how China is using big data to help contain the epidemic in issue 9—including a translation of a detailed lecture by an academic from the Internet Society of China, which I highly recommend checking out if you have not already.
Watching the global reaction to the epidemic feels like being transported back in time to when China was kicking into quarantine about two months ago. When every conversation with a friend, and everything you read or watch, is about the coronavirus. Future travel plans were cancelled, rules were changing daily, and news coming out of Hubei was a daily depressant. In a matter of weeks everything seems flipped on its head. Yesterday for the first time ever China reported more imported cases than local ones, and is now diverting its efforts to contain people flying into the mainland. Even the lock down in Wuhan is being lifted partially following Xi Jinping's symbolic visit last week.
China's experience, along with South Korea, Singapore, and Taiwan, is evidence that that COVID-19 can be contained. The winning formula is clear: temporary quarantine, rapid testing, and close contact tracing, writes Maximilian Mayer and Otto Kolbl in their paper distilling learnings from China. Once these measures are in place normal life can resume without fear of an outbreak.
Early containment is the only strategy for India, any other scenario risks crushing the national healthcare system. I dont claim any expertise in epidemiology but living through the epidemic for the past two months I have been reading smart people who do.
Nicolas Granatino, in his Coronadaily newsletter, writes:
The virus continues its inexorable exponential and lethal ascent as countries scramble with the right policy. At the moment in most countries, the number of deaths approximately doubles every 2.2 days. That is the nature of an exponential epidemic. To put it simply, very soon after an outbreak and unless urgent and immediate policies to curb it are put in place AND clearly communicated to the public, take the number of death today in your country and multiply it by 16: that is your country fatality number in 9 days. Ponder that and act accordingly.
At the time of writing there are 114 confirmed cases and two deaths.
That would put India at 32 deaths on March 23, and 512 deaths by the end of the month unless serious social distancing takes place. But we do not know how far off this may be from the true number, unless testing for the virus rapidly increases.
This chart and methodology by Tomos Pueyo (h/t Exponential View) explains how true number of coronavirus cases is likely between one and two orders of magnitude higher than is officially reported. Therefore if India has 114 confirmed cases today the true number of cases may be upwards of a 1000 already.
Indian claims (not officially) that all cases are imported, their 'close contacts' (about 4,000) quarantined, with is no community spread observed. But that could also be because almost all the people tested are international travellers from high risk regions. People walking in to hospitals anywhere in the country with the flu like symptoms are not being tested. With India's high poppulation density community spread seems inevitable, especially if reports of people skipping out on quarantine are true. Rapid testing is the demonstrated way to quickly diagnose and contain. South Korea was testing up to 20,000 per day. The Indian Council of Medical Research (ICMR) on their website say that 52 government laboratories and 57 medical facilities are equipped to test for the virus— testing just 5,900 individuals as of March 13. Private hospitals are not permitted to to test which may result in a major bottle neck, argues Nitin Pai. India still has a window of opportunity to practice social distancing and contain the spread. Mumbai can look to Shanghai— a city of 25 million people with just 350 cases since the onset of the epidemic. Containment is possible and social distancing does not have to last longer than 2-3 weeks but it needs everyone to recognise the threat and act now before we reach a stage where we actually need to panic.
This issue is a light one without the usual translation. I've been occupied with thesis writing among other deadlines. But given the current situation I wanted to share some of what i've been reading. Stay well, stay at home, and lets everyone shout: CoronaGo!
🎶Sitting in a pile of boxes on my living room floor as it's officially moving day this side ..
.
.
And nothing really felt like a more relaxing break from packing cartons and tearing down my studio than .. well, this 🤷🏽‍♀️ .
.
Stay safe!
(But also stay sane..!)
.
.
.
#coronaGo
#GoCorona
Ps-
@nate08music
@rainbow_visuals
your turn 🎶
---
If you were forwarded this subscribe now for regular updates to your inbox.
---
Censored Contagion: How Information on the Coronavirus is Managed on Chinese Social Media
Lotus Ruan, Jeffrey Knockel, and Masashi Crete-Nishihate (Citizen Lab)
The most detailed, meta analyses of how platforms Wechat and YY (livestreaming) assisted the government coverup, contributing to the unchecked spread of the virus early January. Wechat's key-word censorship is well known, streaming platforms like YY less so. With the rise of Tiktok, among other livestreaming and videosharing platforms in India, its worth observing, from a technical and governance perspective, how platforms and governments work to censor information. Read the full report
Opinion: Thank the Government for Controlling the Virus? No, They Should Be Thanking Us
Fang Fang (Caixin)
On Sunday, well-known author Fang Fang posted a blog on Caixin's Chinese-language website lambasting the "arrogance" of top government officials in the central city of Wuhan, after they announced plans to roll out so-called "gratitude education" to make sure local residents properly thank the Communist Party for controlling the coronavirus epidemic that has so far killed nearly 2,500 people in the city, according to official figures. Fang's article argues that rather than soliciting praise from their citizens, Chinese officials should thank the country's medical workers, sickened patients, and bereaved families for their self-sacrifice, restraint, and cooperation amid a grave human tragedy.
Most people will not be as clear-eyed as Fang Fang but I think this blog captures the sense of frustration many people have with the government. Read the full translation by Matthew Walsh.
The Public Interest and Personal Privacy in a Time of Crisis
Hu Yong
A professor from Peking University and reputed media critic documents the infringment of privacy by public health surveillance. This is a good follow-up read to issue 9 of this newsletter that looked at big data and surveillance to contain the epidemic.
Read Jeff Ding's translation.
---
🧠🍜Morsels from the Digital Silk Road Collection
ICS and the Institute of South Asia Studies, National University Singapore, co-published a book titled 'Digital Silk Road: implications for India', including a collection of reports to which I contributed to. Going forward I will select one report and highlight a section in this newsletter.
To kick this section off i've chosen 'Identifying and Offsetting Import Dependence in ICT Markets' by Vivan Sharan and Yamini Jindal.
Supply chain and manufacturing dependencies has been in the headlines for over a year due to talk of US-China decoupling, even more so now as companies around the world face the implications of nearly two months of shut factories across China.
In this paper the authors highlight India's low capacity for hardware manufacturing and growing appetite for such hardware, and India's IT services industry success largely relying on labour arbitrage with little national or private sector attention paid to the development of complimentary hardware and R&D capabilities. This table starkly displays the ICT innovation disparity between China and India.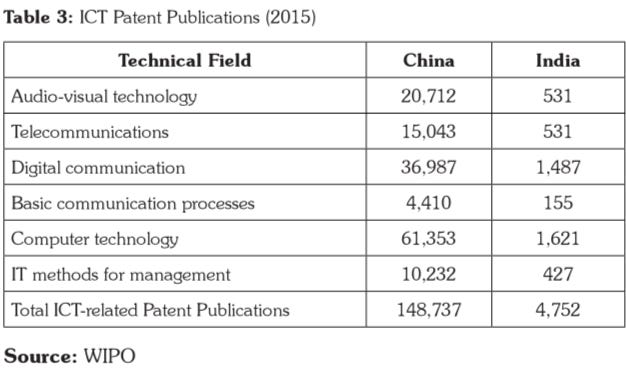 Vivan and Yamini write:
Another similiar example where Chinese equipment import dominates despite close government control and oversight is in digital payments. India imports a large share of ATMs and point of sale equipment (PoS) — despite retaining the ability to the manage the pace of digitilisation of payments through bodies such as the NPCI and the RBI.

The dependency on PoS imports is particularly striking. Two firms, Verifone and Ingenino, control nearly 80% of the global market and most of the Indian market, and manufacture in China. In fact, to meet its digitilisation ambitions in the payments market, India waived basic custom duty on import of PoS machines in 2016 and excepted imports from mandatory labeling by the Bureau of Indian Standards in the same year.

Such device-import dependencies will become irreversible over time with the proliferation of Internet of Things (IoTs). The IoT landscape in India is rapidly expanding owing to demand for both industrial and retail sector end-uses. Driving factors for this secular expansion include the realisation of operational efficiencies, availability of better network infrastructure, government push through initiatives like Smart Cities and Digital India and increasing thrust on providing enhanced user experience (FICCI and EY 2019). The Indian IoT market was already valued at US$ 1.3 billion in 2016 and is expected to grow several folds in the years ahead. For instance, the domestic market for augmented and virtual reality is projected to grow at a compounded annual growth rate of over 55% during 2016-2021. What is encouraging is that the past few years have witnessed the emergence of 170 virtual reality and augmented reality startups in the country.

All IoT applications ride atop hardware equipment and components consist of several high value parts such as embedded chipsets, sensors, transponders and so on. Clearly, India lacks a robust domestic manufacturing ecosystem for such high value hardware components as well as networking equipment—whereas China has made market gains in the latter is investing heavily in the former, particularly semiconductor R&D. In sum, the growing consumer appetite for IoT will increase India's dependency on China.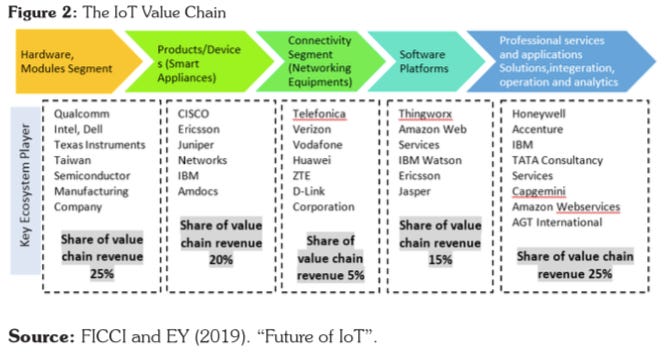 Read more
China has a Shortage of as many as 20 Million Senior Technicians. (China as a) Major Manufacturing Power  -- Who Will Make it (Jeff Ding translation of article on jiqizhineng).
---
🎛Ears and Minds Networked
Home Fitness/家庭保健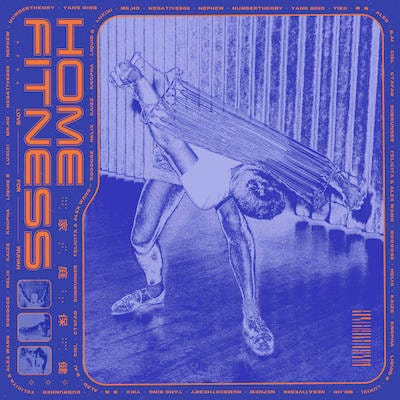 Early in the year, the initial outbreak of COVID-19 quickly spread to the whole China and then across the globe, creating an international public health emergency. Stuck at home ourselves, we wondered how we could help. So we put together this fundraising compilation Home Fitness, which includes 19 tracks from 20 producers from both inside and outside of China. We hope to raise some money to help those fighting against the epidemic, while also bringing some of those trapped at home together with some new music to ease out some anxiety.

All proceeds from this compilation will go to Firefly Plan for the purchase of protective clothing, diapers, sanitary pads and other essential items needed by frontline medical staff.
---