🔌🇨🇳🇮🇳CIN9- Big Data and Surveillance to Combat the Coronavirus Epidemic 🗣📡🕵🏼‍♀️
Next Generation Information Tools to Combat Epidemics from the China Internet Association (CAICT) and 'Smart Seals' for quarantine. Plus jazz hip-hop.
ChinaIndia Networked is a (semi) regular newsletter by me, Dev Lewis, highlighting the networked relationship between the two regions at the intersection of technology, society, and politics. I'm a Fellow at Digital Asia Hub and Yenching Scholar at Peking University, where i'm conducting research on the Social Credit System. Follow me on Twitter @devlewis18 or write to me at devlewis@protonmail.com.
---
Welcome to issue 9 of ChinaIndia Networked.
Tech is an ambient part of life in the COVID-19 "new normal". A couple of weeks ago I received a text on my phone from my network provider informing me of a new service: "text 'cxmyd' to 10086 to receive my location report for the last 15-30 days".
Of course, I had to send the text!
Get through a security step asking for the last 4 digits of my passport and I promptly receive a text listing the cities and provinces I had visited, a new 'self-certification' service thanks to my friendly telecom operator.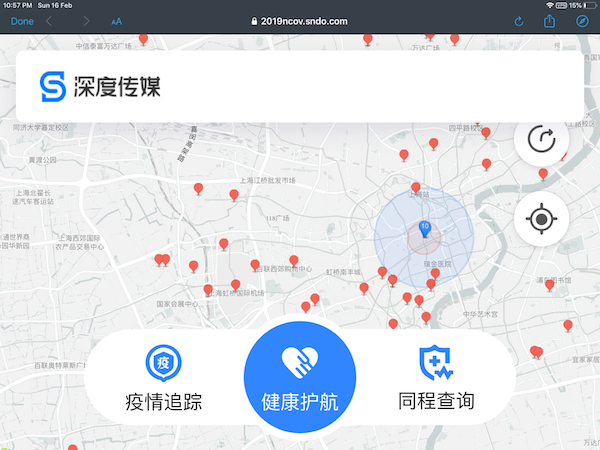 During the early weeks, when the sense of uncertainty was higher, I used to regularly check this Tencent mini app, which displays, on a map, confirmed cases around me and their locations; the blue marker is me in a kind of 'Corona Go' world, except the red dots are places to avoid rather exotic Pokemon to catch. I also used a different mini program to check whether the train I caught late January had any passengers later diagnosed with the virus. With so much uncertainty due to the up to 14-day gestation period, these little checks and confirmations can bring some relief.
I've been fortunate not to have to rely on these apps to be allowed to work or simply to return to my apartment. For others, like for someone with a Hubei ID without having traveled there recently, or someone who shared a train compartment or taxi with a confirmed patient, this could be life changing. On the flip-side, there are people who have had their liberty snatched from them due to erroneous or inaccurate data without context, picked up by dragnets designed to isolate anyone flagged as a risk, potentially facing legal penalties due to combat epidemic rules in play across the country.
In epidemic battle mode everyone is a potential unwitting virus carrier and surveillance is dialed up to the max. You dont need sophisticated AI either. Fairly ordinary tech can easily be configured to enable surveillance, especially when we're walking around with the most powerful surveillance device ever invented in our pockets. Is it justified? Big Data alone wont save you but Shanghai may point to its successful containment so far, albeit surveillance tech played only a part, limiting the spread to under 350 cases with just 2 new cases since February 18, when early models predicted far worse. Its an question we'll revisit in future issues. For now i've translated two pieces.
One is a public lecture on 'Next Generation Information Tools to Combat Epidemics" by an academic at the China Internet Association (CAICT) on February 24. He breaks down the various applications of big data, from surveillance to medical use, and the data sharing mechanics behind them, including government departments and tech companies like Baidu and Tencent. He also addresses the shortcomings of the existing infrastructure and the interplay between law and protecting privacy, although without going into too much detail there. His recommendations, you guessed it, call for collecting even more and richer data. I highly recommend reading the full translation but i've highlighted some key bits here below.
The second is lighter read on the experimental use of low-tech 'smart seals' to quarantine people at home in Jiangsu. The piece gives you a sense of how strict quarantine life can be in some cases and the extent to which many people have had to sacrifice their autonomy in the interest of societal safety.
The COVID-19 epidemic is no longer a pure China story anymore, with Japan, South Korea, Singapore, Italy, already seriously affected, and eyes now on the US. 'The China model' is already being talked up by the WHO and the Chinese government. Societies around the world may face a testing time confronting the surveillance-liberty dilemma, although lets hope it doesnt get to that point. In China the big question is how much of the mechanisms will stay in play well after the epidemic.
Finally, a quick personal plug. The China's Digital Silk Road- Implications for India collection of papers, published by Institute for China Studies, New Delhi, is now out. It includes an excellent set of papers from Mareike Ohlberg, C. Raja Mohan and Chan Jia Hao, Santosh Pai and Rajesh Ghosh, Vivan Sharan and Yamini Jindal, Ananth Padmanabhan, and yours truly. Check it out here.
---
If you were forwarded this subscribe now for regular updates to your inbox.
---
Using Big Data to Fight the COVID-19 Epidemic in China
The following is a translated transcript of a public lecture delivered on 24 February, 2020, by Wu Hequan, scholar, China Engineering College and Internet Society of China Consulting Committee Director.
Combining data sets from three ministries to identify high risk individuals
We can combine the data of the Health and Medical Commission, the transportation Ministry, and the Ministry of Industry and Information Technology (MIIT) to find people who came in close contact with confirmed patients.

For example, the Health Commission knows the name and ID number of the confirmed patient. Through the Ministry of Transport we can find out the flights taken by the patient for the past month. The Health commission asks MIIT to share the the mobile phone numbers of the other passengers on same flight as the patient. Using cell phones numbers the government can locate and get in touch with the people who would have made close contact with the patient. In fact, the platform has also been opened for travelers themselves to look up their flights and trains and check if they shared journeys with any confirmed patients.
Designing the Self-Certification Travel Report by Telecom Companies
When returning to work or home after the holidays some people conceal their past contact with affected areas. Although they do not display any symptoms they may be infected and thus highly contagious. Through a phone's location it is possible to know whether this user came from or has visited an infected area. But for privacy reasons we cannot directly share this data, which contains all the streets, communities and towns the person visited. If we openly share this data it is likely that people who may not be confirmed cases can be looked up, with the data used for other purposes, therefore this method cannot be used. So what now?

We know that according to the Personal Information Protection Law, an individual can check their own information. Therefore, MIIT is now coordinating the efforts of three network operators to provide user itinerary services. An individual can personally retrieve their location data for the past 15-30 days. At that time, the MIIT proposed that this include any stay for more than 4 hours. With this list you can go to your local employer or residential community to prove you have not been to the affected areas. At present, tens of millions of people have used this service. Now faced with the challenge of resuming businesses, the epidemic prevention and control measures in some places have even been expanded. In some provinces with a large number of confirmed cases no one is allowed to return. Strict control should not get out of control, but it cannot go over the top. In fact, some checks on the return trip are necessary, and of course it will have some impact on the journey
Gaode Map's 'Return Ride' Platform
Say a person is going from Jinan (Shandong) to Shanghai. The maps lists the severity of the epidemic situation in the cities along the route. It also lists the stipulations and requirements of Shanghai government for people entering the city, the traffic at the entrance and exit of the highways, the many check points along the way, and how long it would take to complete. The "return ride" platform makes it convenient for travelers to plan accordingly.
Medical data for faster diagnosis
Big data is not only used to track people but also helps intelligent diagnosis. Current statistics reveal only 30% of patients with COVID-19 test positive when tested for nucleic acid. Although the person is infected with a confirmed diagnostic why only 30%? what is the reason? One reason is because samples are taken from the oral cavity where the infection rather than the lungs. But making a judgement based on CT scans is difficult due to the hundreds of CT photos of a lung that have to be read. It is difficult to look at each one. Using big data we can use AI to restore it to a 3D three-dimensional lung making it relatively easy to see whether there is fibrosis and whether the lungs reveal "ground glass opacities". Based on medical experience a CT image big data analysis and evaluation system for patients with pneumonia can now be developed. It is not necessary for doctors to see them. These CT photos can be put on the system for analysis, which can help doctors analyze lesions. It used to take more than 5 hours to see a doctor, but now it can be a few minutes, because it turns hundreds of sheets into one sheet.
More detail on the use of AI to assist diagnosis in cooperation with Yitu in Shanghai.
Haeir assists medical supply organisation
Big data is also very useful in optimizing the production, organization and scheduling of medically scarce supplies. Haier has developed an epidemic medical material information sharing resource aggregation platform, which connects over 780 hospitals, the needs of communities, and more than 500 companies that can produce these medical materials. More than 50 million requests have been issues on the platform. Procurement is not limited to China, but also globally, enabling accurate connections for anti-epidemic resources.
Hangzhou's Green, Red, Yellow Healthcode management
Hangzhou adopts a green, red, and yellow health code management method to distinguish whether users have come into contact with confirmed patients or suspected patients; whether they are from key epidemic areas, and the duration of quarantine, so each case can be treated separately. However, there is a worry if the report is true. Here the health code is to be connected to the cloud, which matches the data on the Internet. Big data can detect false information.
'Big data can detect false information' is a very problematic assumption that unfortunately still plague the thinking and designing of systems. He himself later notes that location testing via cellphone base stations—the most commonly used method—has an accuracy between 10-100 meters, far too much error for accurate analyses to confirm close contact between people and confirmed cases. GPS location data from maps is more accurate but not used as widely. How many people may have found themselves unfairly considered high-risk suspects?
Big Data and privacy
Big data is a double-edged sword. How to protect privacy? In fact, telecommunications data only includes meta data and not the content of conversation, but nonetheless this can be sensitive, as is patient behavior data. The storage of telecommunication data is currently limited to the period of epidemic control measures. Following the epidemic, the original data will not be retained. Now it is particularly important to note that, with the exception of agencies authorized by the health department of the State Council in accordance with the law, no other unit or individual may, on the grounds of epidemic prevention and control, cure diseases, collect personal information of the user without the consent of the person being collected. It's difficult here. What about protecting personal information and using big data to prevent and control?

One way is to make the raw data invisible. How does this work? Relevant ministries, health and health commissions, the Ministry of Communications, the Ministry of Public Security, and the MIIT can report data samples rather than the full set to help the epidemic big data analysis platform to debug our algorithms and programs. Once the program is debugged, the sample data can be sent back to the relevant ministries and commissions who can operate the platform within their respective areas. Later the results they share do not need to include the raw data either. This way the ownership and storage location of the data are not changed, and only the analysis results without sensitive data are taken away.
---
Opening the door a cause for alarm! a number of regions are piloting "Smart Seals" to the widespread support of people
AI Outpost (AI前哨站)
Author: Feng qunxing (冯群星)
Source: https://m.mp.oeeee.com/a/BAAFRD000020200220267589.html
Prevention and control is a top priority for Community offices now that migrant workers are returning . The AI ​​Outpost noticed that communities in Suzhou, Shanghai, Hangzhou and other places are using "smart seals" to prevent people under quarantine from leaving the house without authorization. It is understood that the "smart seal" uses the Internet of Things, 5G (it really does not), and other technologies to monitor the opening and closing of the door. Should a door be opened irregularly, community office mobile phones and computer terminals will receive a text.

Many communities use smart seals for precise management
"Home quarantine personnel opened the door alarm in Room XXX, Unit XX, Xietang Street, Suzhou Industrial Park, Jiangsu! Details of quarantine personnel: XXX."

On February 19, You Xiulan, a grid member of Xietang Street, Suzhou Industrial Park, received this reminder from the "smart seal".
You Xiulan is responsible for managing 10 residential buildings in Lianhua District 6, Xietang Street, and has been working overtime since the Spring Festival. Previously, the community affixed a paper seal to the homes of people quarantined and she'd visit the house every morning and evening. With the smart seal she can simply pay attention to her mobile phone reminder.

It is understood that the "smart seal" used in Xietang Street is actually a magnetic door monitoring IoT device that can autonomously monitor the opening and closing of a door. At the time of installation the mobile phone numbers of the person in quarantine and the period is stored on the system. The door monitors any abnormal opening of the door and notifies the community personnel.

"This is actually more convenient. If there is an alarm at night and I can't make it I can quickly notify the residence complex's office and let them go to survey the scene." You Xiulan said that the smart seal has reduced her work pressure and the residents also They all work together and are fairly cooperative. Except for the occasional accidental touch by residents, she has not received any alarm from the seal.
The relevant person in charge of Xietang Street told the AI ​​outpost that there were a large number of returning migrant workers in Xietang Street, but the street and community workers were limited, and it was impossible to achieve 24-hour home supervision of people coming to Suzhou from key epidemic areas. Therefore, the street tried to use smart seals, and from February 5 to now about 100 units have been installed.

As for the people quarantined at home unable to leave what should they do to buy food and dump garbage? You Xiulan said that the street set up a WeChat group for quarantined personnel with grid workers and volunteers staffed. People at home raise any need in the WeChat group and You Xiulan and colleagues came to help.
The AI ​​outpost revealed that not only Suzhou, but also communities in many cities across the country, such as Shanghai, Zhengzhou, Hangzhou, Jinhua, and Wuxi, are also piloting the use of smart seals. Zhongshan Street, Songjiang District, Shanghai even installed more than 1,300 sets of equipment at one go. The working principles of these devices are roughly the same. The reasons favored by the community are that they do not need to be charged or connected to a Wifi network, can be easily reused and have timely alarms.

60% of voters support smart seals in the community

Since the outbreak of the Coronavirus many new technologies such as big data and artificial intelligence have been applied to the prevention and control of the epidemic. What do netizens think about the use of smart seals in the community? The AI ​​outpost initiated a poll on the "hotspot station team" in Nandu city on this issue. As of the afternoon of February 20 a total of 2415 netizens participated in the voting, of which 1,568 votes (64.9%) voted in favour and 847 voted against.

The AI outpost notes that after the outbreak, the use of seals has become a common practice for community-managed home quarantines. Although many communities do not use smart seals they also use ordinary paper seals. 56.7% of voters believe that the seal can effectively prevent and control. However, there are 28.4% of netizens who believe that the use of seals is useful but not necessary.

In a further investigation, 49.3% of netizens thought that smart seals were better than ordinary paper seals, and 6% of netizens thought that the two seals were similar. Another 38.8% of netizens chose "does not support the use of seals".

It is undeniable that after the seal is applied, the home quarantine personnel loses some freedom of movement and privacy. Is this an infringement of their rights? Netizens have different opinions.
58.2% of netizens believe that the epidemic situation is serious, and quarantine people should and must make some sacrifices. "The interests of most people outweigh the interests of very few people", "extraordinary times calls for extraordinary means" "Using high-tech precautions to improve management and control", say Netizens "Gui", "Xiao Yihong" and "Prairie Steed".

38.8% of netizens think that it should not be. People in quarantine only need to implement accepted prevention and control measures such as wearing a mask and washing their hands frequently. Netizen "Yunhai" believes that it is possible to propose and monitor, but it cannot be made compulsory, and the basic rights of residents must be guaranteed. "It is said that you can trust the seal of country on the seal, you should also be able to trust the seal of masses. " he said.

Behind the different perspectives of netizens lie real ethical issues on the application of new technologies. Around this issue, the AI ​​outpost consulted two ethics scholars.

"Using technology to replace dangerous, boring, and heavy labor reflects the ethical interest of technology in the pursuit of human well-being. However, at the same time, the development of technology has made us begin to reflect on the ethical status of humans and the ethical attributes of technology, and the ethics of technology in different scenarios Function, etc.", says Yan Hongxiu, a professor at Shanghai Jiaotong University, who believes that smart seals are a special case of ethical scenarios for epidemic prevention and control. For such special scenarios, it needs to be analyzed based on general ethics and combined with specific situations (super vague).

She points out that from the perspective of ethics, the ethical motivation of using smart seals in Suzhou and other places is well-intentioned: it reminds those quarantined at home to prevent the spread of the epidemic. At the same time, the data collected by the seal is limited. Through remote data acquisition cross-infection can be avoided, human costs are reduced, and management and governance efficiency is effectively improved.

"From the perspective of public safety and governance, it is legal and necessary to take all technical means to ensure public safety in accordance with the law." Yang Qingfeng, a professor at Fudan University, said that using smart seals can effectively control the flow of people from key epidemic areas. There is a certain amount of legitimacy and necessity in special periods. The IoT, big data, artificial intelligence and other technologies represented by smart seals are used in epidemic prevention and control, to ensure the lives of other groups (such as community managers and residents of the same building) through unmanned and automated methods. Safety is also in line with the principle of protecting the lives of others in bioethics.
While affirming the role of smart seals, Yan Hongxiu and Yang Qingfeng also made some suggestions from the perspective of technical ethics.
"Giving the function of collecting data to smart seals, rather than transferring responsibility to technology, is more a reflection of human responsibility." Yan Hongxiu said that the use of smart seals and data collection should be based on the residents' informed consent. The data necessary for epidemic prevention and control must not abuse technical authority. Secondly, the data collected by the community must only be used for epidemic prevention and control, it cannot be placed in other scenarios, and cannot be recycled for other purposes.

Yang Qingfeng believes that the current application scenarios of smart seals are unique and require pre-research on the ethical issues of related technologies in other scenarios after the disaster. For example, how to distinguish between sensitive groups and high-risk groups? How to formulate ethical selection criteria for relevant scenarios? In addition, the effects of using smart seals in special periods also need to be studied. "Residents who are installed with smart seals are like lab research cases, the psychological state of these people's technical management needs further research," he said.
---
💽🎛Networked Ears and Minds
One album from the independent music scene around the country—because if you're interested in China and not listening to music coming out of here you're not doing it right.
Lu1 - 男孩 A Portrait in Time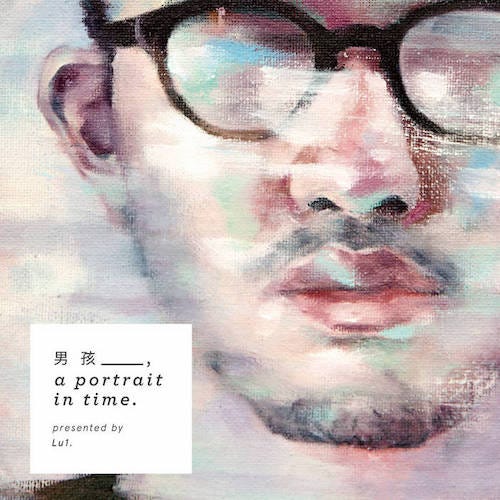 Self-desribed as 'fusion hip-hop, jazz, Bossa Nova', the album A Portrait in Time is pure Chill. Best represented by the title track 男孩, which probably best translates as 'dude', the beats are pretty simple, a bit raw, but catchy and Lu1's voice brings feel, like '夜街 night street', and 'Feeling Blue' which has some of the Bossa Nova vibe. Originally from LA, he got his break in the Shanghai hip-hop scene in the early 2000s.
---
🔌Get Networked
Opportunities to study, work, or simply get out there and engage with the wider community
This is an attempt to compile a list of key writings on China-India topics, which will be eventually added to a China-India database. Anyone can contribute to the list by suggesting entries here. These entries (including Ph.D. Dissertations)  should place China and India within a single investigative framework, or have important relevance to examining issues related to China and India. They could cover any time period and be in any language, but please provide translations for non-English entries. Op-eds and policy papers will not be included on this list.
Put together from NYU Shanghai's Center for Global Asia this is a treasure trove of academic works on 'China-India'.
Thats it for this issue!
🙏🏽 If you liked what you read please consider sharing this with 1 friend or colleague that would enjoy reading this. You can forward this email or share this post as a link using the button bellow. It means a lot when you do!
---