🔌🇨🇳🇮🇳CIN8 - the "COVID-19 new normal" takes work and study online😷🤳🏼📚
F&B businesses are on the brink, plus music from Wuhan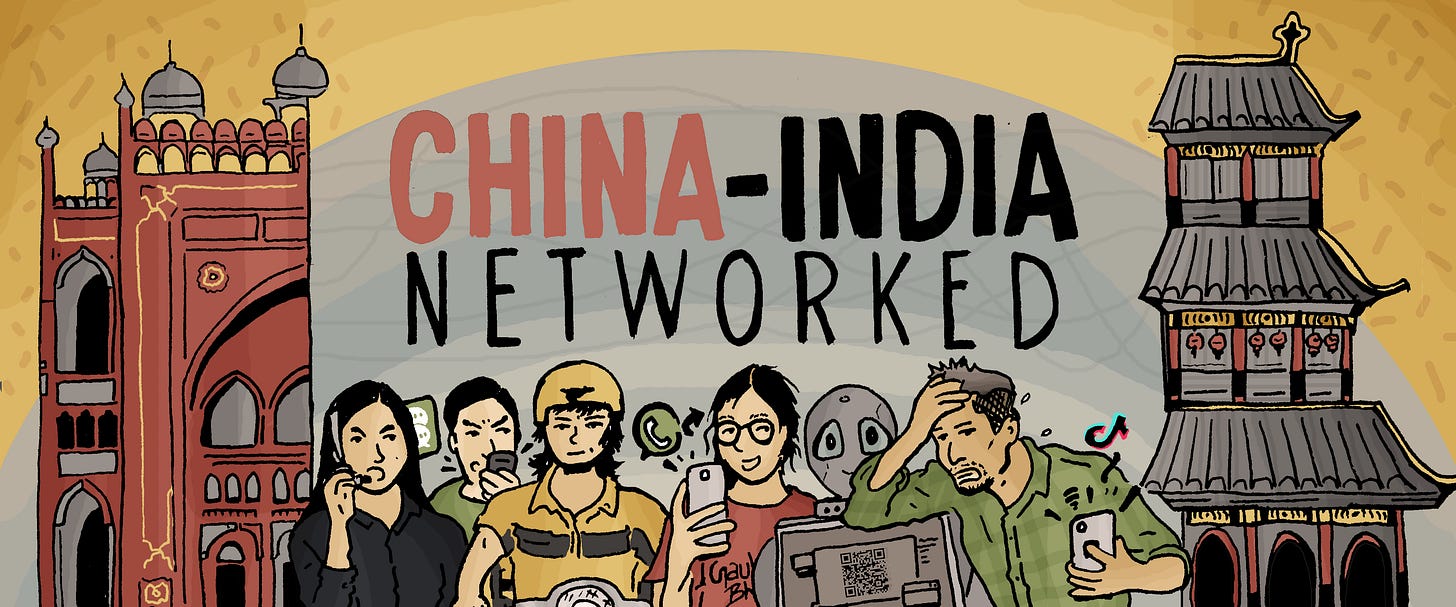 ChinaIndia Networked is a (semi) regular newsletter by me, Dev Lewis, highlighting the networked relationship between the two regions at the intersection of technology, society, and politics. I'm a Fellow at Digital Asia Hub and Yenching Scholar at Peking University, where i'm conducting research on the Social Credit System. Follow me on Twitter @devlewis18 or write to me at devlewis@protonmail.com.
---
Welcome to issue 8 of ChinaIndia Networked.
I write this issue from Shanghai where I am in full health but living in the "COVID-19 new normal" which has the mainland in varied degrees of lock down and quarantine.
Before I go any further a quick personal plug: Last month I did a webinar for the Exponential View community on the Social Credit System, sharing some of my findings from the field and observations interacting with the Social Credit community here in China. The webinar is behind a paywall but you can sample the fantastic free weekly newsletter by Azeem Azhar on technology and our near future.
Here in Shanghai groceries are all fully stocked, public transport is functioning, and a smattering of cafes and stores are open too. But walking the streets feels more like a small European town on a Sunday morning than one of Asia's largest cities; life is far from normal.
While new guidelines have been flowing from the top, the interpretation of what it means to quarantine appears to be in the hands of local neighborhood offices (居委会) in Shanghai, whose workers coordinate activities on the ground. Since early February measures have been tightening across the country with some villages and cities taking more extreme steps to quarantine, but its not uniform even within a city. Some friends tell me their neighborhoods recently imposed limits on leaving the house, plus fever checks . Mine is relatively relaxed but everything is in flux. On the flip side Business officially resumed on February 10 which pulled a large influx of returnees from the prolonged break, but most companies are sensibly choosing to keep offices closed and work from home. I'm also hearing people that traveled recently are asked to self-quarantine at home for at least 14 days before coming to work. All this is resulting in the largest work and study from home experiment in the world—i've translated a story on teachers taking classes online for free to the entire country via China's largest online teaching platform.
Another phenomenon of the quarantine is that effectively a big chunk of the country's 854 million or so internet users are stuck at home with little else to do but sit in front of their devices, glued to news coming out of Wuhan and the rest of the country. By all accounts there was a visible explosion of reporting, with human interest stories, and coverage of coverups and incompetence, including the Wuhan government itself. Maria Repnikova, an astute observer of Chinese media explains:
For one thing, that control is incomplete, and some stories slip through, at least temporarily. Policy making in China is more fragmented than it might seem from the outside, with frequent gaps in implementation, especially between central and local authorities. Those cracks are one reason local officials can sometimes cover up their failings to hide them from Beijing. But they also create openings for critical reporting.

Local officials can only directly supervise the media outlets registered in their own provinces; they have little say over the doings of news outlets based elsewhere. Hence what could be called the practice of "extraterritorial" investigations — a longstanding feature of Chinese journalism. Most in-depth reports about the coronavirus epidemic have been carried by news outlets based outside Hubei Province, where Wuhan is located.

In times of crisis, the central authorities in Beijing have also deliberately granted the media limited space to uncover any failures. Temporary information openings are useful to the government: They can help it identify the sources of a problem, assess public sentiment and possibly, too, deliver an effective response — or at the very least, allow it to project an image of managed transparency.
The crescendo was on the night of February 7 when Dr Li Wenliang passed away. That night what felt like the entirety of the Chinese internet, and all my social media feeds, were a flood with messages and memes, expressing grief and gratitude, and barely disguised anger and frustration at his death. Dr. Li was reprimanded (along with 7 other doctors) by the Wuhan police for spreading "rumors" about a mysterious virus with SARS-like properties on December 30 in a Wechat group with fellow doctors and medical professionals. He was later vindicated when even the Supreme Court publicly condemned the punishment and said it might have been a 'fortunate thing if the public had believed the 'rumors' and carry out sanitization measures'. Dr Li in an interview before his death was quoted saying "a healthy society needs more than one voice". The story played out in the public eye. He died a COVID-19 victim, as well as a whistle-blower in the face of a government coverup that contributed to the current crises. The public out pour that night felt like what scholar Timur Kuran calls a 'preference cascade':
"As people's thoughts about other people's thoughts change, there is a shift in reputational incentives, and hence people's public preferences can shift: if you come to believe that there is a "silent majority" believing what you believe, you probably won't be silent for very long. For social change to occur, expectations are crucial, very much because they affect people's public preferences. And when people's perceptions of what other people think are shifting rapidly, there can be a bandwagon effect, or a preference cascade."
I'm not predicting or hinting at a large social movement but highlighting a significant moment in the on-going crises. The main story remains in Wuhan and Hubei province where the epidemic rages on, infecting over 56,249 confirmed cases, thousand and counting (February 16). The healthcare system is on the verge of collapse, suffering from a shortage of doctors, beds, masks, and more, and to top it of a governance crises. Those not infected are stuck at home in fear with no end in sight. Please spare a thought for the people of Hubei and Wuhan and their families. Here are three recommended reads and sources to follow on:
Caixin Global's coverage for updates and in-depth investigations and Sixthtone for human interest stories

China Storytellers Issue 20 "The China Normal" with stories from journalists and writers from China covering the epidemic.

Chinarrative, edited by Colum Murphy, carries a translation of Hubei resident's account of his battle to save his wife from "pneumonia"—a day before the virus was recognised officially. One of the saddest pieces i've read.
---
If you were forwarded this subscribe now for regular updates to your inbox.
---
💬"Rumors" and disinformation
In addition to COVED-19 health crises, society is grappling with related misinformation and 'fake news'. WHO even calls it a "massive'infodemic'".
Researchers from Beijing Normal University's New Media Research Center surveyed 1465 internet users in Wuhan, Beijing, Shanghai, Guangzhou, and Chengdu to gauge reading habits and awareness about misinformation or 'rumors 谣言' as is referred to in Chinese. I've highlighted some of the conclusions and stats on internet user behavior that I found interesting (published on Xinjing bao (新京报):
Where people are reading
The top sources of news were news websites, TV, Wechat, and Toutiao (selected by 61%-56% of respondents). Douyin (mainland version of Tik Tok) was a source for 38%, while 1.7% used a VPN to read foreign news coverage from websites.
Fake news awareness
2/3rds believe that there are rumors about Corona on the internet. 19.8% of whom believe that there are a lot of rumors, while 67.2% believe there are some rumors.
Wechat vs Douyin
People who rely most on Wechat to learn and read about the epidemic tend to more more trust in the valid and credible measures to protect against infection (wash hands regularly, minimise contact with other people,etc), whereas those who rely on Douyin or kuaishou tend to have low belief and trust in these methods.
Fake news believers like to share
People who believe in the fake news propagated protective measures (smoking/drinking alcohol to disinfect, burst firecrackers to disperse the virus) are most likely to post/share on Wechat and Weibo.
Chinese medicine believers like to discuss online
People who tend to have most trust in less scientifically proven methods (such as as eating vinegar etc) are most likely to comment on Baidu Tieba (a Reddit-like platform).
---
🤳🏼👩🏽‍💻📚Work, study, and play all go remote
Schools everyone are shut and nationwide all classes are pushed online.
Wechat publication Renwu 人物 did a story on the teachers of a large online education platform Homework Help that now runs free classes with as many as 20 million students. I've translated sections of the piece.
Huang Jingyu spends 15 hours preparing lessons every day. These days she only sleeps 4 hours a day. She is from Hubei and has not been able to return home this year. From a house she rents in Beijing she cares for her family and teaches students around the country in a house rented in Beijing. This is a special course for a special period. When the epidemic struck her employer homework Gang launched a free online live broadcast class nationwide. On the morning of February 10, the number of students enrolled in this public welfare course reached an unprecedented 20 million.

With the "longest winter vacation in history" the learning needs of children who have delayed school remains huge. There has never been a moment like today when online education has become the mainstream education method. Even some traditional public schools have launched online teaching modes, allowing teachers who were offline to go online. What used to be lectures to students has now become lectures on air.

All of Huang Jingyu's Homework Help classes are specialised. With the onset of the epidemic they have become another line of battle. Homework Help became the first educational institution to launch free online public welfare courses for students across the country. This meant new courses for all grades and disciplines created at once. For an institution just 6 years years old becoming the largest online education platform for Chinese users, it is going to take hundreds of teachers' time, energy, and enthusiasm to make students from all over the country feel at home on this online class.

On New Year's Eve on January 24 Homework Gang made a decision to start a free live broadcast class, and various departments responded positively. Then on January 25, the first day of the new year, the first registration was announced, and on February 3 the first class went live. There were only 9 days for the teachers to prepare, many who had to rush back to Beijing, the first of many difficulties.

The next challenge lies in preparing lessons.

"This class has never been taught to so many students before." Huang Jingyu had previously taught up to 6,000 students online at the same time. With the launch of the free class, she now has 300,000 students enrolled, tens of thousands in each class. Jingyu is a graduate of Central China Normal University and taught classes for almost two years in the Homework Help. Now facing 300,000 students she is feeling her palms sweat just like when she first began as a teacher.

She set high expectations on herself. She sees 300,000 people are 300,000 futures. "If I don't understand fully understand a subject or question, there may be 300,000 people who will lose 5 points on the exam." Homework Help requires teaches prepare for a duration of about six times the duration of the actual class prepare. The free live lesson is 40 minutes long, and it takes 4 hours to prepare. In order to polish the lessons, Jingyu spends 10 hours preparing each lesson. After finishing the lesson, she plays back the recording to see where it was not good enough.

Teaching hundreds of thousands of people is a completely different game

The streets and alleys across the city are are desolate as tens of thousands of people are deserting the city. This is suitable for the Homework Help's free live lessons. "Students from all provinces across the country have gathered together for live broadcast classes. There are big cities, from the villages below, but there are no people on the streets. Think about this. What kind of scene is this?" Math teacher Zhang Hua Says.

The large number of students brings problems across different layers. Students in different regions have different schedules and different levels, so the original class mode is no longer feasible. Zhang Hua is going to talk about mathematics functions for the first year of high school. He came up with a way to classify all the knowledge points in the textbook, and analyzed the range problem of the function in various situations. "In this way, students who have a poor foundation will find that there are not so many math functions in total and it is not so difficult to learn. For students with a better foundation, they will also think that the original function can be classified in these ways, thus there is some benefit. "

Zhang Hua has been teaching for 11 years. "In the first 5 years, I worked as a teacher in an offline school, in the next 6 years I transitioned to online". His perception of online education is also changing. He used to think that the only benefit of online courses was that he could teach more students at the same time. But now he finds that to hold students' attention online as a challenge to deliver more interesting lessons and a higher density of knowledge points. "In this sense, online education is better than offline education. For example, in this free live lesson, you must speak well, otherwise students can simply press the phone home button and start playing a game."

The lesson for junior high school Chinese teacher Huang Jingyu is 'Review of Key Poems in Grade 8'. Among them is Du Fu's Spring Hope."The country is broken by mountains and rivers", and "the City is Full of Spring Vegetation." (according to the story) After the Anshi Rebellion the capital of Chang'an was overgrown with trees. In order to improve student's recall she is using the current fight against the the epidemic as a tool. People are living at home and in fact the spring is out and the vegetation has begun to grow. It is another kind of real life "city spring vegetation." "It's just different from the Tang Dynasty. Today's times are different. Many people with lofty ideals rushed to the front line of the epidemic so we also need to have confidence."

For the Hubei teachers of the Homework Help, there is one more layer of concern for the live broadcast class for the students this time. At midnight on February 6th, high school Chinese teacher Luo Feiran was preparing for the next day's live lesson. Her cousin in Xiangyang, Hubei, sent her three WeChat messages, all simply said one word: "sister".

While preparing for a lesson, she muted her WeChat and did not hear it. "Twenty minutes later, my sister called again and said with a trembling voice, "Sister, I have a fever, 37.5 degrees".

Luo Feiran's hometown, Xiangyang, is very close to the most severely effected regions in Hubei Province with more than a thousand people diagnosed. Luo Feiran has a very close relationship with her sister with whom she grew up together. Just a few days ago a suspected patient was just carried out by the building next door to the sister community. At this moment her sister developed a fever.

"My sister is a single mother of a child of 4 years old. She has always been strong" But this time her sister's voice was trembling. Here in Beijing, Luo Fei was also very anxious and could only comfort her sister that everything would be okay.

At 9am the next day before the start of the free live lesson, Luo Feiran called her sister again but no one answered. She comforted herself that her sister was still sleeping, perhaps a sign that the fever might have subsided, or she might not sleep well all night.

A minute after Luo Feiran started the live broadcast class, for the next 40 minutes of her lecture time she must temporarily forget her family and place all her energy into teaching.
AI 财经社 spoke to employees from tech companies to cover what they dubbed as the 11/11 (Alibaba's annual shopping gala on 11/11 which brings the largest online traffic of the year) of remote work platforms DingDing and Wechat Corporate.
On the first day of the Spring Festival reworked schedule, Dingding and WeChat's online conference function was squeezed and collapsed. Fortunately, it did not last long.

Facing the epidemic remote office has become the overwhelming choice for enterprises to start work. However, bosses of the large companies are stubborn— How can efficiency be guaranteed with their employees are not under their eyes ? Likewise, employees are not happy— why should I write a daily newspaper three times a day?

On the first day of work from home, the large-scale remote office experiment\ made the situation of online office software so much that many Internet people who are accustomed to office work are at a loss. Some companies are looking for more alternatives.Right now, most people are not able to get to work, but the epidemic can't stop people's enthusiasm for working, and can't stop expecting to get on track.
One employee from a Internet company:
Although we are working from home our office hours remain the same: 9am to 8pm. Management publishes the work plan for the next few days and asks everyone to register thrice in a day: morning, noon, and night. We also have to send our location and take a selfie along with our computer as evidence, and to top it up a work report at the end of the day

Our boss insists on video for all calls to ensure we're all listening but this only makes it worse and awkward and I really dont like it. Because we have to keep the phone placed close our face looks blown up, and there is no beauty filter on the video chat…
Just like work and study, the music must go on. In fact, music venues and are even taking to live stream whole festivals online. Krish Raghav writes:
Prominent indie record labels like Ruby Eyes and Modern Sky are streaming "showcases" for artists on their roster, and venues like Shanghai's Yuyintang are even considering ticketed online performances. Many of these are hosted on the live-streaming site BiliBili, which contains a crucial social feature, Bullet Comments or 弹幕 ("danmu"), that make these events an active expression of community and social bonding, rather than just passive experiences. Bullet Comments are a mix of discussion forum threads, live chat, and participatory art that conjure a powerful online approximation of real-life conviviality, and a raucous vibe akin to a successful party. Comments made on a video fly across the video screen like heckles or encouragement from a virtual audience. 

A funny or surprising moment can generate so much commentary that a screen of text can overwhelm the video at particular timestamps, while inside jokes and memes can create a "parallel track" of commentary be followed along with, creating an engaged, attentive audience.  "It's like going to a karaoke parlor or being in a mosh pit without leaving your house," said singer He Fan of Beijing band Birdstriking, which streamed an acoustic set for label Modern Sky's "Strawberry Z" live-stream, named after Strawberry, China's most prominent annual outdoor music festival.  
---
🍜Shanghai F&B in crises
A special report on Feb 10 by Yi Magzine: F&B Industry in lock-down can online food delivery save them?
TL/DR—big fat NO.
I've translated sections covering three owners of popular chains in Shanghai highlighting how bad things are:
Popular crayfish restaurant Huxiaopang
One January 19 we closed all our stores and more than 500 employees left Shanghai returning home for Chinese New Year break. Apart from the owner Maji most of have not able to return and are stuck at home. With 13 stores our monthly expenditure including rent and salaries is is around 300,000 RMB (US$ 42,000) without any income. Xi bei says they have cash to last about 3 months before going out of business, I dont even think I can make it that long (Xi bei is a popular Mongolian chain restaurant, read Jordan Schieder's translation of an interview with the Xibei CEO).
Sichuat hotpot Hongliao li with 19 stores in Shanghai
"Our big new year plans have all been poured over cold. Due to villages across the country shutting down roads workers are not able to return. While our initial concern was what are we to do if our workers dont come back, now we also have to think about the freshness of our food and the disruption to the supplies from the market sent to our store everyday".

Hongliaoli set up an emergency group to deal with the situation, especially the lack of supplies to the store due to shortages in the market. Everyday they are only able to stay open for about two hours before running out of supplies, forcing them to shut down orders. Restaurant staff are now packing boxes and making their own deliveries, as well as trying to increase the delivery distance zone. The director of Hongliaoli believes that if the restaurant is not able to open, relying purely on food deliveries, their finances will be in the red. To add to their woes residential complexes are not allowing delivery people inside is causing a decline in orders.
Poke Labs - a "internet sensation 网红" restaurant set up by two former Apple employees is giving their business up for free.
Poke Labs notified their 70,000 members on February 3 with a message "transfer for 0 RMB "0元转让" i.e. having run out of money rather than close shop they are offering their operations and brand to anyone willing to take over and run it.

Having already used up cash reserves from December and the first half of January, suffering a 70% loss due to no income for 20 days, Poke Lab has no cash reserves left, compounded by the fact that several of their employees are stuck Wenzhou (one of the worst hit cities outside Hubei) and in Hubei. "We cannot turn into a pure food delivery play because firstly we already have a long term lease contract so we cannot close the store immediately. Moreover food delivery platforms take up to 20% of commission, leaving very little profit".

Right now in Shanghai all fellow owners of "internet sensation" stores are basically just passing time. After discussing the situation they decided its best to simply give up this undertaking and give up the business for free so as to at least keep the brand alive. We dont want to simply close up shop, because from our perspective we still feel emotionally attached to the brand, if it can continue living it would be the best, we know our customers enjoy our products too. Hopefully handing it off to someone wealthy enough to take it from us, it can make a a comeback and we can experience it as a customer.
A Peking University and Tsinghua University survey of SME's across the country revealed 34% of companies do not have cash reserves to last longer than a month. According to an Evegrande Research report the retails and F&B industry lost 500 billion RMB (72 billion USD) during the Spring festival alone.
💽🎛Ears and Minds Networked

One album from the independent music scene around the country—because if you're interested in China and not listening to music coming out of here you're not doing it right.
Chinese Football [Wuhan]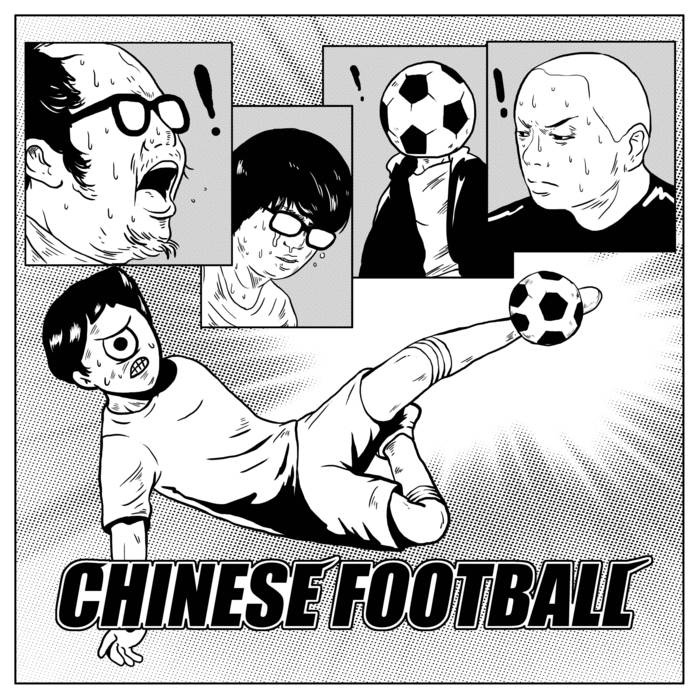 Chinese Football is one of my favourite bands that also happens to be from Wuhan. A reminder that the city, among many things, is also a hot bed for independent music in China. A self-described Emo-rock band, (and hence the name Chinese football, not known for winning very often, see issue #6) their music is addictive, layered with catchy guitar riffs and non-intrusive vocals. All their albums are great but their debut album is particularly specially, with track names like "not everyone can wear the no10 jersey", and Shijie bei (which sounds like both World Cup and Depressed World in Chinese). For more music from Wuhan check out this playlist curated by Radii.
---
🔌Get Networked
Opportunities to study, work, or simply get out there and engage with the wider community
Apply Ashoka-HYI Postdoctoral Fellowship
The Ashoka-HYI Postdoctoral Fellowship in China Studies, offered jointly by Ashoka University and the Harvard-Yenching Institute (HYI) for recent PhDs in China Studies, is an opportunity for postdoctoral researchers to conduct a two-year study on China, extendable pending review and approval, under the guidance of established scholars and professors while teaching at top Indian universities. 

The fully-funded fellowship is open to scholars who have completed PhDs anytime after 2011 with a specific focus on China (utilizing Chinese language sources) across various disciplines of humanities and social science. These include, but are not limited to, anthropology, archaeology, cultural studies, economics, geography, history, international relations, language and literature, legal history, philosophy, political science, religion and sociology. 

The founding cohort of the Ashoka-HYI Postdoctoral Fellowship in China Studies will consist of as many as 10 scholars, placed across different universities within India starting from Fall 2020 semester. The fellowship will have both a research and a teaching component. The fellowship is extendable to an additional (third) year, which is conditional and based on the performance of the fellow in the first two years of the program.
Not much new to report here as most events and programs with China related travel are either cancelled or postponed.
Thank you for reading and have a wonderful Sunday!
---
🙏🏽 If you liked what you read please consider sharing this with 1 friend or colleague that would enjoy reading this. You can forward this email or share this post as a link using the button bellow. It means a lot when you do!
---